Τετάρτη, 27 Μαρτίου 2013
Nonion Breed - Cosmic Paradise
Out now with remixes from: Timewarp and The Lifers
File Under: NuDisco

Cosmic Paradise by Nonion Breed. Marios & Paschalis Chatzigeorgiou where born in Thessaloniki, Greece in an era that the music was made mostly analog and physical. As twins they did almost the same things, and till now they produce together their music.

The single consist of two floor filler disco-house influenced tunes, Summer Nights and Cosmic Paradise. Their style moves from disco-house beats to unique sophisticated dance melodies combined with their amazing production skills. A second version of Cosmic Paradise from their side project "The Lifers" by giving a french electro touch.

Timewarp and Alessandro Otiz are participating on the release with their remixes on Cosmic Paradise tune under their nudisco and indie-dance concept. Timewarp slows things down with etherial melodies and laid back beats while Alessandro Otiz drives the tune into a deep house funk disco mood.

Track List:
1. Nonion Breed - Summer Nights
2. Nonion Breed - Summer Nights (Timewarp remix)
3. Nonion Breed - Summer Nights (Alessandro Otiz Remix)
4. Nonion Breed - Cosmic Paradise
5. Nonion Breed - Cosmic Paradise (The Lifers Remix)

Nonion Breed - Cosmic Paradise will be available on March 18th, 2013 for sale in special edition CDR and digital download at Kraak Store and all mp3 retailers across the internet.

Listen & buy the release here:
http://www.kraakrecords.com/krk063.html
http://kraakrecords.bandcamp.com/album/nonion-breed-cosmic-paradise
Copyright © 2013 Kraak Records, All rights reserved.
http://www.kraakrecords.com/
Τρίτη, 26 Μαρτίου 2013
Hello, the new album has leaked online a little early so we have made it available digitally iTunes and the Ninja Store NOW so you don't have to wait until April for the real thing. The North Borders is also available as a CD, 12" vinyl and Special Edition box set which you can order here.
Bonobo and his full live band will also be embarking on The North Borders Tour, playing over 50 shows across Europe and North America in April, May and June.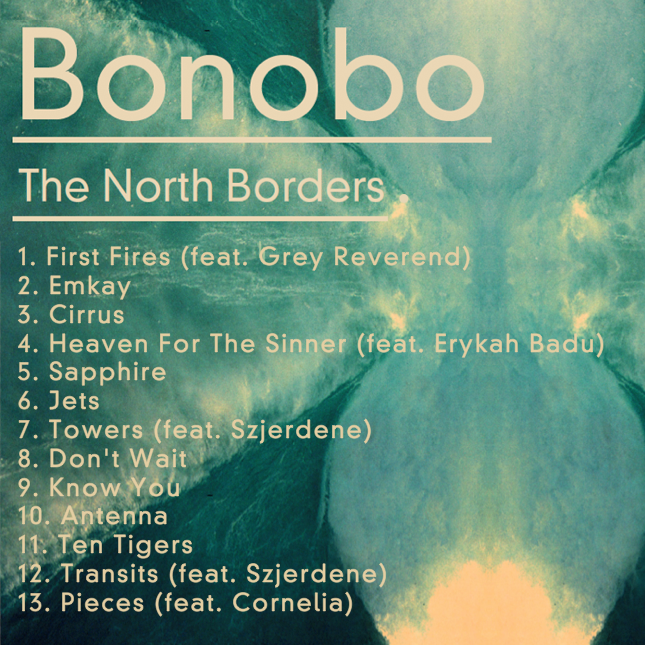 10 April

Black Cat

Washington DC, WA

SOLD OUT

11 April

Theatre of Living Arts

Philadelphia, PA

Buy Tickets

12 April

Webster Hall

New York, NY

SOLD OUT

12 April

Public Assembly (DJ Set)

New York, NY

Buy Tickets

13 April

Paradise

Boston, MA

SOLD OUT

14 April

Higher Ground

South Burlington, VT

Buy Tickets

16 April

Telus Theatre

Montreal, QC

SOLD OUT

17 April

Babylon

Ottawa, ON

SOLD OUT

18 April

Danforth Music Hall

Toronto, ON

Buy Tickets

19 April

The Crofoot

Pontiac, MI

Buy Tickets

20 April

House Of Blues

Chicago, IL

Buy Tickets

21 April

Majestic Theatre

Madison, WI

Buy Tickets

24 April

The Granada Theatre

Lawrence, KS

Buy Tickets

25 April

Fox Theatre

Boulder, CO

Buy Tickets

26 April

Ogden Theatre

Denver, CO

Buy Tickets

27 April

Urban Lounge

Salt Lake City, UT

Buy Tickets

30 April

Commodore Ballroom

Vancouver, BC

Buy Tickets

01 May

Showbox At The Market

Seattle, WA

Buy Tickets

02 May

Crystal Ballroom

Portland, OR

Buy Tickets

03 May

The Warfield

San Francisco, CA

Buy Tickets

04 May

The Fonda Theatre

Los Angeles, CA

SOLD OUT

05 May

El Rey Theatre

Los Angeles, CA

Buy Tickets

06 May

Belly Up Tavern

Solana Beach, CA

SOLD OUT

09 May

Emo's East

Austin, TX

Buy Tickets

10 May

House Of Blues

Dallas, TX

Buy Tickets

11 May

Tipitina's

New Orleans, LA

Buy Tickets

18 May

The Roundhouse

London, UK

SOLD OUT

20 May

Rock City

Nottingham, UK

Buy Tickets

21 May

The Plug

Sheffield, UK

Buy Tickets

22 May

The Ritz

Manchester, UK

SOLD OUT

23 May

Picture House

Edinburgh, UK

Buy Tickets

24 May

The Sage

Gateshead, UK

Buy Tickets

25 May

Love Saves The Day Festival

Bristol, UK

Buy Tickets

28 May

Ancienne Belgique

Brussels, BE

SOLD OUT

30 May

Vredenburg

Utrecht, NL

SOLD OUT

31 May

L'Aéronef

Lille, FR

Buy Tickets

01 June

Dachstock

Boston, MA

Buy Tickets

02 June

L'Usine

Geneva, CH

Buy Tickets

03 June

Transbordeur

Lyon, FR

Buy Tickets

05 June

Krakatoa

Merignac, FR

Buy Tickets

06 June

Le Trianon

Paris, FR

Buy Tickets

07 June

Central Station

Dachstock, DE

Buy Tickets

08 June

Sudhaus

Tubingen, DE

Buy Tickets

09 June

Live Music Hall

Cologne, DE

Buy Tickets

10 June

Muffathalle

Munich, DE

Buy Tickets

12 June

Fabrik

Hamburg, DE

Buy Tickets

13 June

Astra Kulturhaus

Berlin, DE

Buy Tickets

14 June

Palladium

Warsaw, PL

Buy Tickets

15 June

Studio

Krakow, PL

Buy Tickets

16 June

Eskulap

Poznan, PL

Buy Tickets

18 June

Kosmonavt

St Petersburg, RU

Buy Tickets

19 June

Moscow Hall

Moscow, RU

Buy Tickets

05 July

Mostly Jazz Festival

Birmingham, UK

Buy Tickets

06 July

Pitch Festival

Amsterdam, NL

Buy Tickets

13 July

Pohoda Festival

Trenčín, Slovakia

Buy Tickets

18 July

Dour Festival

Dour, BE

Buy Tickets

19 July

Colours Festival

Ostrava, CZ

Buy Tickets

21 July

Soundwave Festival

Zadar, Croatia

Buy Tickets

16 August

Beacons Festival

Skipton, UK

Buy Tickets

01 September

Outlook Festival

Pula, HR

Buy Tickets

12 September

Koktebel Jazz Festival

Koktobel, UA

Buy Tickets

12 October

Terminal 5

New York, NY

Buy Tickets

23 November

o2 Academy Brixton

London, UK

Buy Tickets